Former Isle of Man prison stars in horror film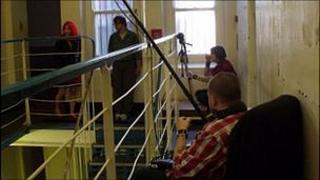 A former prison on the Isle of Man is being used as the set for a British horror film.
Victoria Road Prison features as the Slasher House in the film of that title. Filming finishes at the site at the start of August.
Mycho Pictures, based in Preston, hired the location after a suggestion from one of the film's actors whose mother lives on the island.
The rest of the movie is being filmed in Lancashire.
Mycho Pictures is hoping for a worldwide release of Slasher House next autumn around Halloween.
Producer Jonny Raw said: 'It has been incredibly useful for us.
"We'd been hunting for a suitable location for five months with no success and it was actually one of our actors, Adam Williams, whose mother lives here, who suggested it."
Minister for Home Affairs Adrian Earnshaw said: "I am pleased the former prison proved a suitable base for this production.
"The building has been empty for two years but it still costs a considerable amount to maintain.
"Fees paid by the production company will make a contribution to those ongoing maintenance costs."
The film's plot sees the heroine wake up in the prison with no memory of who she is or how she got there, shortly before the murderous inmates of the prison are then set free.
Mr Raw said: "Victoria Road prison forms the perfect backdrop for our tale, with only the small flashback sequences being filmed in our home county of Lancashire.
"When we return home we will be gushing about how supportive the Isle of Man has been to us and filmmakers in general, and we'd encourage production companies of any size to seriously consider shooting here."
Slasher House will be released next year.