Men row for Viking boat record bid in Isle of Man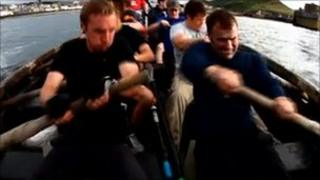 A team of Manx men are preparing to sail round the island in a Viking Long Boat in a bid to beat the world record.
The 15-strong crew will aim to cover the 90 miles of the Irish Sea in less than 27 hours to get their names in the history books.
It is believed they form only the second team ever to attempt the challenge, called Row the Rock.
All money raised from the feat will go towards charity.
The current record, at 27 hours, was set in 1995 by members of the Viking Longboat Committee.
The new challengers, which include people from surveyors to teachers, have rowed more than 40 miles in preparation.
Andy Mulhern who came up with the idea with his friend Richard Trubshaw, said: "We both wanted to take on the challenge of a lifetime and after a stack of hair-brained ideas we struck gold and thought of this one.
"After coming up with Row the Rock, the next hardest thing to do was to find another 13 men who were daft enough to join us.
"The Viking Longboat Committee very kindly agreed to lend us the use of a longboat to challenge their 15-year-old record, and the gauntlet was well and truly thrown down."
They will take on the challenge on 21 August.