MMR warning for Isle of Man Europe travellers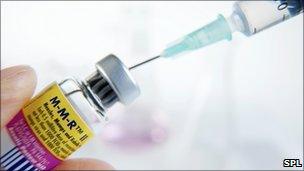 Island residents planning to travel to Europe over the summer are being urged to check their children have received two doses of the MMR vaccine.
Dr Parameswaran Kishore, Manx director of public health, said there were increasing numbers of measles cases being reported on the continent.
And with MMR coverage in some areas dropping to 75%, he fears the virus could be brought back to the island.
Anyone who fears their vaccination is not up to date should contact their GP.
"Because the world is now a global village, families travel all over the world, France and Greece being common summer destinations," said Dr Kishore.
"And if anyone in the family is not fully protected, the measles virus could spread to the Isle of Man."
To protect the community against the three diseases covered by the vaccine, at least 95% of children in the eligible age groups need to be vaccinated, he added.
Related Internet Links
The BBC is not responsible for the content of external sites.