One man and his dog kayak from Cumbria to Isle of Man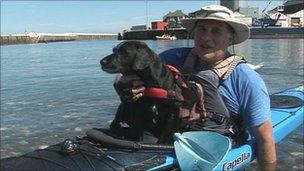 A man and his dog have kayaked from the Cumbrian coast to the Isle of Man to raise money for charity.
Martin Whitmill, from Cleator Moor, and his Labrador Charlie completed the 35-mile trip across the Irish Sea from St Bees to Ramsey in nine hours on Sunday.
The duo have been practicing for the trip on Ennerdale Water since the start of the year, with Mr Whitmill in the kayak and Charlie on a mat on the top.
Mr Whitmill said to get to the Isle of Man as a team was "beyond words".
He took up the challenge to raise money for WaterAid and four churches around his local area.
He said: "It got pretty stormy out there at one point, and like a trouper he balanced the boat, he kept us on a good level and everything worked really well.
"To actually get here to the Isle of Man, to do it under our own steam and for us both to get across and to set a unique record which I'm not sure will ever get beaten, is just beyond words."
Mr Whitmill began training with Charlie after an illness.
"I was really ill, I was as low as I could go," he said.
"Having Charlie, it gave me my life back.
"Charlie ran marathons with me, which is quite unusual for a dog, and then he started riding on my kayak and it just seemed really natural.
"He moves backwards and forwards, left and right, and he counterbalances to make sure everyone's balances, he's always done it, he always likes to be with me and I guess it's just part of his life.
"I guess I'm just a lucky owner and I'm not sure if he's a lucky or unlucky dog."