Death of TT rider Paul Dobbs was misadventure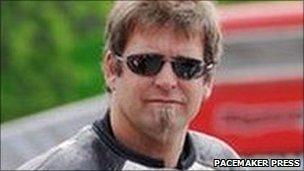 New Zealand TT rider Paul Dobbs died instantly after losing control of his motorcycle and crashing at high speed during a race, an inquest has heard.
The 39-year-old suffered severe head injuries and died at the scene of the crash at Ballagarey during the second Supersport race of the 2010 festival.
Douglas Courthouse heard evidence from spectators, marshals and police who attended the scene on 19 June.
Coroner Alastair Montgomerie recorded a verdict of misadventure.
Mr Montgomerie read out a series of statements, including one from Brian Graham who witnessed the crash from the roadside.
"The rider leaned too far over and lost control when he was going round the corner," Mr Graham said.
"He was thrown from the bike and flew through the air and landed on the road face down."
The court heard also heard statements from spectators Robert and Sandra Kinvig, who described hearing a scraping sound "like metal on the road".
"The rider then lost control and straw bales exploded as the bike hit them," they said.
Mr Dobbs was thrown into the air and landed about 15 yards down the road with a "loud thud".
"He was motionless from the moment he hit the ground," they added.
Mr Montgomerie, recording his verdict, concluded that it was "clear from evidence that Paul Dobbs lost control of his bike and crashed".
"It is not easy to say why he lost control. It was not due to a mechanical fault. Paul lost control of his bike with fatal consequences."
Mr Montgomerie paid tribute to marshals and medics who he said did everything they possibly could, but added that his death was "instantaneous".
"He will be much missed at the TT. He was a popular, experienced and regular TT competitor," Mr Montgomerie added.
"He really did love the Isle of Man and the TT. He even named his younger daughter, Hillberry, after a section of the course and he was buried on the island."
Mr Dobbs, from Onewhero, leaves behind his wife Bridget, and daughters, Eadlin, eight, and five-year-old Hillberry.
Related Internet Links
The BBC is not responsible for the content of external sites.