Dragon gives Manx P50 car his backing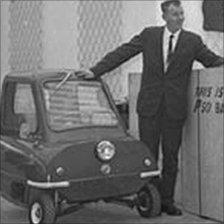 A cherished part of the Manx car industry, the Peel P50 minicar, has received the backing of one of the Dragon's Den judges.
The P50, first on sale in 1962, has three wheels, one headlight, three gears and no reverse.
However, the two owners of Peel Engineering are hoping to bring the tiny vehicle back to life.
Entrepreneur James Caan told the pair on the show he would give them £80,000 for a 50% stake in the company.
Marketing executive Faizal Khan and property magnate Gary Hillman own Peel Engineering and have been building life-sized replicas of the P50.
They successfully had two of them put into Ripley's Believe Or Not museums in London and New York, with 12 more on the way.
They want to capitalise on its popularity by launching a range of merchandise including remote-controlled and Matchbox models of the cars.
The other four Dragons were less keen on the pair's proposals on the show which was broadcast on Monday, calling their business plan "sketchy".
However, Mr Caan has agreed a deal with them where, in two years, he should get the £80,000 loan back plus a share of the profits.
One of the smallest vehicles to go into mass production, the vehicle is 134cm (53in) long and 99cm (39in) wide, with a weight of just 59kg (132lbs).
Its 49cc engine allowed a top speed of 38mph (61km/h).
Related Internet Links
The BBC is not responsible for the content of external sites.