Man found guilty of Douglas house fire murder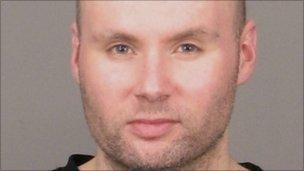 A man has been found guilty of murder and arson after a fire at an Isle of Man house left a 61-year-old man dead.
Simon Leece, 35, was found guilty of starting the fire at Demesne Road in Douglas, which killed builder Terence Losh in March last year.
The blaze at Demesne Road was described by the prosecution as an "inferno" with temperatures reaching 1,000C.
The judge at Douglas Court House adjourned sentencing for six weeks while a psychiatric report is prepared.
During the trial, the court heard how Mr Losh perished in his flat on the top floor as the fire burst into his room.
Chf Insp Kevin Wilson said after the verdict: "Simon Leece was a dangerous man who that night killed a man at his most vulnerable who should have felt secure in his own home and for no reason that we have managed to gather.
"Not only was he killed but in terms of the other people in the properties, particularly those at Demesne Road, it was a terrifying ordeal. I've spoken to Mr Losh's family who are pleased with today's verdict."
Leece was found guilty of arson with intent to endanger life after the blaze at Peveril Street and arson being reckless as to whether life would be endangered in relation to a fire at Clarke Street.
He was cleared of arson at a property at Bucks Road.
The prosecution's evidence centred on CCTV footage showing Leece leaving his home in the middle of the night, hiding behinds cars and heading in the direction of Demesne Road and Peveril Street minutes before the fires began.
Police also found a footprint at the property at Peveril Street matching that of the defendant's.
The Sharman family were in bed asleep at their property in Peveril street when Leece set their living room on fire.
Sheree Ann Sharman said: 'It is scary the idea that someone can come in quite calmy, set fire to your house and just leave it. It's pretty obvious that a family live here.
"We just want to know why he did it? Why did he pick us?"
Mrs Sharman put the fire out herself using her coat and a bucket or water but admits that if the fire alarm had not gone off when it did they could have died.
Deemster Birkett told Leece that he would serve a life sentence but he could not determine the minimum term of that sentence before a full psychiatric report was carried out.
Sentencing has been set for the week beginning 11 October.