Book borrowed from Manx library in 1950s returned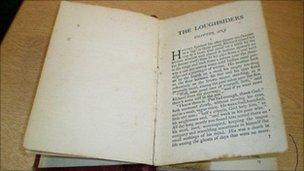 A book has been returned to an Isle of Man library, more than half a century after it was borrowed.
The Loughsiders by Shan F Bullock was borrowed by Kevin Leonard in the 1950s, while he was on the Isle of Man from Ireland training to be a nurse.
The worn and faded book was recently found by 90-year-old relative Philip Leonard when he was clearing shelves at his home in Newry, County Down.
He read it before posting it to Manx National Heritage with an apology.
Mr Leonard wrote: "I am sure Kevin intended to return the book in the 1950s but it got lost among other, old books and lay hidden all these years."
"I hope you will see it returned to its rightful owner."
Manx National Heritage passed the book to the Mobile Library, who said it was probably the longest-overdue item they had ever had.
Librarian-in-charge Sandra Henderson said: "His book was obviously very popular in its day as it was regularly borrowed for 30 years before it travelled to Ireland.
"Having been overdue since the 1950s, it must be our longest overdue book ever recorded."
Mr Leonard said the book, about a Protestant community living on the shores of Lough Erne in County Fermanagh, was a "classic".
He said: "It's beautifully written, a shrewd insight into the lives of small farm people of the time."
Mr Leonard was not fined for his late return, as the Mobile Library does not charge fines.
Related Internet Links
The BBC is not responsible for the content of external sites.