Isle of Man Viking boat challenge delayed by waves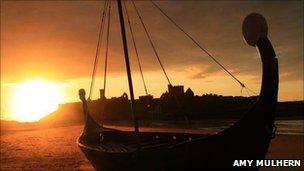 An attempt to row a Viking longboat non-stop around the Isle of Man has been postponed because of bad weather.
A crew of 17 friends, who have formed the Row the Rock Challenge team, had planned to set out from Peel earlier.
Strong winds have resulted in higher waves than the vessel could safely negotiate in the 90 mile round trip.
The crew has postponed the attempt until the following weekend when it hopes to beat the 1995 record of 27 hours.
Team member Andy Mulhern said: "We can cope with a sea state of two, but at the moment its three or four, which would make it impossible to challenge the record.
"It's a little disappointing, but that's the way it goes and we're all looking forward to getting on with the challenge next weekend."
The crew is raising money for the RNLI, Sailing for the Disabled and the Hyperbaric Chamber.
Related Internet Links
The BBC is not responsible for the content of external sites.