Isle of Man Viking boat crew waits for lull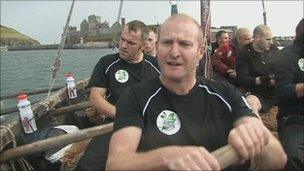 Fifteen men from the Isle of Man are standing by to set off in a Viking longboat in an attempt to row around the island in less than 27 hours.
The crew, who plan to leave Peel Breakwater when the weather improves hope to cover 145km non-stop to raise money for local charities.
They have been training for the event, known as Row the Rock, for the past six months.
Seven teams have attempted the feat before, but only one has finished.
Challenge organiser Andrew Mulhern said: "We're certainly not elite athletes, probably half the boat had never rowed before May this year.
"The biggest obstacles are the weather and the tides. If we get either of them wrong then that's the challenge over."
Row The Rock supports the RNLI, Sailing for the Disabled and the Isle of Man Hyperbaric Chamber Medical Facility.
Related Internet Links
The BBC is not responsible for the content of external sites.