Manx passport change 'two years away'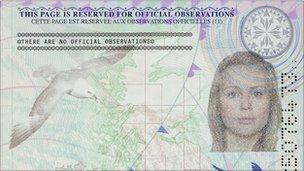 The introduction of a new generation UK passport will have no immediate impact on the Isle of Man travelling public, the government has said.
Although the redesigned document will be rolled out from 5 October, the Manx version will not follow until 2012.
It will feature the same enhanced security features, including a hidden security chip and new holograms.
Until then, the Isle of Man will continue to issue the current British Islands passport.
Manx government spokesman Richard Carter said: "The Isle of Man will continue to issue the current generation of passport until the end of 2012.
"Current generation passports issued in the Isle of Man will be valid until the expiry date.
"They continue to be a secure document for travel throughout the world and continue to comply with the requirements of the US Visa Waiver Programme."
The UK government has said its new passport will give citizens added protection from identity theft and fraud.
The key difference is that the security chip - which holds owners' personal details - will no longer be visible, instead hidden within the inside cover.
It is claimed this will make it harder to replace the chip without causing noticeable damage to the passport cover.
Related Internet Links
The BBC is not responsible for the content of external sites.