Royal Navy man and police officer die in Manx crash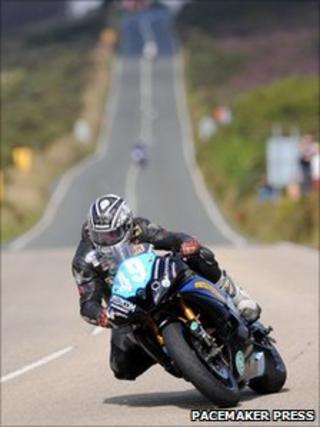 A Royal Navy member and a police traffic officer have died in a motorcycle crash during a race on the Isle of Man.
The riders collided on the second lap of the Junior Manx Grand Prix (MGP) at 1100 BST on a section of the course known as Alpine Cottage.
Jamie Adam, 28, from Prestwick, was declared dead at the scene.
Chris Bradshaw, 39, a police officer from Tamworth, was declared dead at Nobles Hospital.
Mr Adam first competed on the island in 2009, finishing 9th in the Newcomers race and 27th in the Senior MGP.
Mr Bradshaw began his Manx competitive career in 2004 and finished 37th in last year's Senior MGP race.
The next of kin of both families have been informed.
The Manx Motor Cycle Club abandoned the race after the crash and a spokesman said: "We extend our deepest sympathy to the family and friends of both men."
The crash is being investigated by police who are preparing a report for the Coroner of Inquests.
In a separate crash during the first lap of the race, Douglas based rider Tim Venables came off his bike near Greeba Castle.
He was taken by air ambulance to Nobles Hospital, where he was described as being in a critical condition.
'Big family'
It was Venables' first year as a Grand Prix competitor and he won the Newcomers A race on Monday.
Fellow Manx man Dan Sayle also came off in an accident at Sign Post Corner on lap one while leading the race. He was treated in hospital and released shortly afterwards.
Competitor, Jonny Heginbotham said: "It's like a big close family here with everyone trying to keep each others spirits up.
"Everyone knows the dangers of the sport, especially on the Isle of Man TT course, but you just don't want to see this happen to anyone."
Rider Michael Sweeney was awarded the Junior MGP win after the race was abandoned.
It was first thought Simon Fulton had won but he was demoted to third after being awarded a time penalty for running a yellow flag.
The senior race has been rescheduled for 1215 BST on Thursday.