Archibald Knox art shortlisted on Isle of Man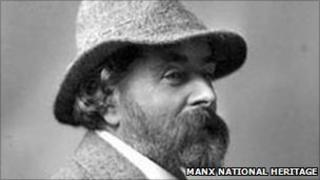 Three artists have been shortlisted to create a timepiece for the former family home of designer Archibald Knox.
Camm Design, Paul Beckett and Stephen Broadbent are the finalists but only one will be given the commission.
The brief was to create a piece of work which embodied the spirit of the work of Manx-born artist.
Chris Pycroft, from the Douglas Development Partnership, said: "We are looking for an installation which celebrates the life and work of Knox."
Mr Pycroft said he hoped the artists would create a piece that "could have been the work of Knox had he been alive today".
Camm Design is a Wirral-based design partnership of Craig and Mary Matthews, creators of The Prow, the stainless steel sculpture on North Quay in Douglas.
Paul Beckett is a Llandudno-based sculptor and clockmaker and the third finalist, Stephen Broadbent, from Chester, created the Encounter sculpture at Junction 11 of the M62.
The final piece will eventually be installed at 70 Athol Street- against the gable wall of 69 Athol Street, the former Knox family home.
Knox at Liberty
The site is owned and occupied by Dixcart Management (IOM) Limited, originator and co-funder of the project with Douglas Development Partnership and the Isle of Man Arts Council.
Archibald Knox was born to Scottish parents on 9 April 1864 at Cronkbourne Village in Tromode.
He became one of the most influential figures in the British Art Nouveau and Arts and Crafts movements.
During Knox's career he worked for Liberty & Co, which established him as the foremost designer in the English Art Nouveau movement.
His Liberty designs include silver, pewter, carpets, pottery, jewellery and textiles.
Knox also worked as a teacher, illustrator and, during World War I, as a censor at a Manx Internment camp.