Pope's visit sees Catholic rise in Isle of Man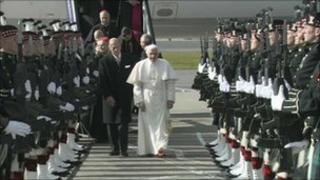 As Pope Benedict XVI begins his papal visit to the UK, Catholic congregations are reporting a rise in numbers in the Isle of Man.
The increase is believed to coincide with both his visit and the number of different nationalities settling on the island.
The Pope flew into Edinburgh where he is beginning his four-day tour.
Assistant priest Father Brian Dougherty, of St Mary's in Douglas, said: "We have good congregations."
He added: "We have the Polish community, we have the Filipino community, all different nationalities plus an increase in our own population on the island, we have very good congregations here all over the weekend."
'Bridge-builder'
"We do have some young people going [to see The Pope] and they are going over on Thursday or Friday."
His visit has been welcomed by many, but has been overshadowed by the child abuse scandal that surrounds the Catholic Church.
However, tens of thousands of people across the UK are expected to line the streets.
Prime Minister David Cameron has said it will be "a very special four days, not just for our six million Catholics, but for many people of faith right across Britain".
Monsignor Michael Regan, who has been in charge of planning the first leg of the trip, said: "He's a Pontiff, he's the bridge-builder and hopefully his visit to Edinburgh today, and to the United Kingdom, will be building bridges in a whole variety of different ways."