Twelve people charged during police phone campaign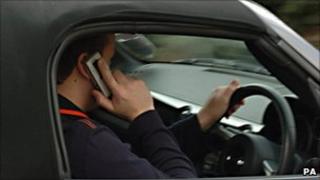 Twelve drivers have been prosecuted after being caught using their mobile phones at the wheel since the start of a police campaign on the Isle of Man.
The motorists have all appeared in court and were fined £250 each for using a mobile phone whilst driving.
A police spokesman said motorists using a mobile phone were 50% more likely to have an accident.
Insp Britton, from the Roads Policing Unit, said drivers needing to use their mobiles should use hands-free kits.
The next police campaign, called Operation Bright Lights, will aim to combat vehicles that are not road worthy, with a particular focus on headlights.