Manx Pc praised for icy water rescue in Douglas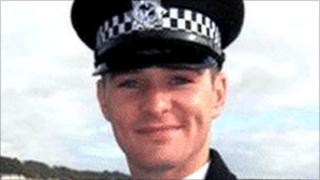 A police officer who braved icy waters to rescue a woman in Douglas has been praised for his bravery.
Pc David Schumacher was one of several officers alerted to reports of someone screaming for help in the water near the Solway Harvester in Douglas.
He dived 15ft (4.6m) from the quay side into the sea when the 38-year-old slipped under the surface.
The actions of Pc Schumacher, who carried out a similar rescue last year, were described as "incredible".
Emergency services were called to South Quay at about 2205 BST on Sunday and found the woman partially submerged in the water, clinging to a fishing boat rope.
Officers threw the woman a life belt and kept talking to her in an effort to keep her calm.
But it became clear she was suffering from the effects of the cold and officers saw that she was unable to maintain her head above the surface of the water.
Pc Schumacher took the decision to jump in and secured the woman with the life preserver as Douglas Coastguard arrived.
Insp Mark Britton, of Isle of Man Constabulary, said: "This officer took the particularly difficult and brave decision to enter the inky black icy cold waters.
"We do not encourage anyone to enter the water and this officer has done this twice now to affect a rescue. To have to do so once within one's service is rare, but to have to do it twice in such a short time is incredible.
"This officer put himself in harm's way to rescue this lady and I personally salute his bravery."
The inspector also paid tribute to the coastguard officers who had to swim about 40 yards with the woman to get her to safety.
Pc Schumacher and the woman were both taken hospital suffering the effects of hypothermia and later discharged.
Sgt Andy Kneen, who also attended the scene, added: "I was present when this rescue took place and I've no doubt that without the efforts of Pc Schumacher and his colleagues, together with the team from Douglas Coastguard, this incident would have ended in tragedy."
Inquiries to establish how the woman came to be in the water are continuing.