Trevor Baines sentence appeal dismissed in Isle of Man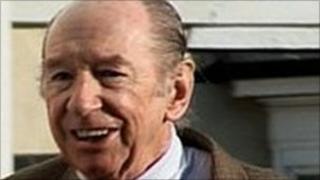 A Manx millionaire who was jailed for fraud has lost his bid to appeal, it has emerged.
Businessman Trevor Baines, 70, from Douglas, was convicted of money laundering in October 2009 after a five-week trial.
Baines's subsequent appeal against a six-year prison sentence was dismissed on 29 September by Judge of Appeal Tattersall QC and Deemster Doyle.
At the hearing it was decided the jail sentence was not excessive.
The statement from the court said: "In this case what the appellant did was very serious, involved a very substantial sum of money and struck at the foundations of the financial probity of the financial services industry in this island."
In 2009 Baines was also convicted of false accounting, as was his 51-year-old wife Wendy.
His fortune was amassed mainly from his property empire, but he is also understood to have been one of the early investors in the Miss World franchise.
With £130m, he was ranked 349th on the Sunday Times Rich List in 2008 alongside musicians Eric Clapton and Phil Collins.