Manx government considers rabbit cull law changes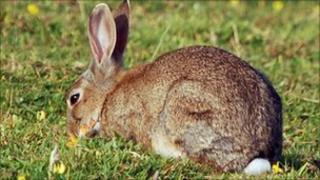 The Isle of Man government is seeking public opinion about plans to relax rabbit culling laws.
The changes would mean rabbits could be shot at night in an effort to control the population.
Island farmers have expressed concern about rising rabbit numbers, especially in the north of the Island.
Manx Farmers Union Secretary Belinda Leach said: "Rabbits are a serious agricultural pest, causing significant economic damage to crops."
The government proposal states that changes to the existing law "would enable farmers to control rabbits in a manner which is humane".
A spokesman from the Isle of Man Government said: "Strict controls will be required to ensure the safety of the shooter, those in the shooting party and members of the public and to regulate those permitted to shoot at night."
Responses to the proposals must be made to ed.clague@gov.im by 19 November.