Open invitation to Sir Norman Wisdom's funeral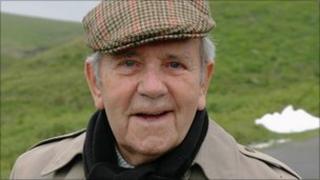 Residents of the Isle of Man have been given an open invitation to attend the funeral of comedy legend Sir Norman Wisdom, who died on Monday.
The service for the 95-year-old comic, who spent his retirement as an Isle of Man resident, will take place on Friday 22 October.
A horse-drawn hearse will take his coffin to St George's Church, Douglas.
The service will be followed by a private burial ceremony for family and friends.
Mourners will be able to pay tribute to the comedian as the cortege will drive along Douglas Promenade starting at its Onchan end at 1335 before the funeral at 1400.
A spokesman for Sir Norman's family said there was an open invitation to islanders to attend the service at the church, which holds 500 people, as well as the reception at Sir Norman's Bar in the Sefton Hotel, Douglas.