Clean beaches boost for Isle of Man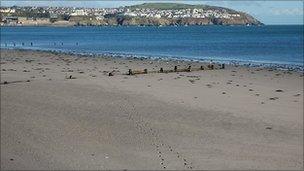 A sewage clean up scheme is improving the water quality around Manx beaches, government scientists have found.
Some samples taken from 19 beaches this summer were classed as excellent, said environmental officials.
The beaches receiving an excellent or good rating were at Douglas, Onchan, Castletown, Derbyhaven, Port St Mary and Port Erin.
They were part of the IRIS (Integration and Recycling of the Island's Sewage) scheme.
Tim Crookall, chair of The Isle of Man Water and Sewerage Authority , said the beaches achieved a quality of "good" or above for 99% of the sea water samples taken between May and September.
"Those areas which are connected to the existing IRIS network are showing the level of bathing water quality which we have been striving for and which we will deliver throughout the island as the Regional Sewage Treatment strategy progresses," he said.
The tests were carried out by The Department of the Environment, Food and Agriculture's Environmental Protection Unit (EPU).
Dr Phil Styles of the EPU said, "It is pleasing to note the number of samples which achieved the excellent or good standard in those areas which are connected to IRIS and where untreated sewage is no longer continuously discharged into the sea.
"The presence of some indicator bacteria in samples may be due to some wash off from farmland or other sources of contamination such as septic tanks but I am convinced that the IRIS sewage treatment strategy is a major factor in the improvement of bathing water quality found from Port Erin through to Onchan."
He added, "It is hoped that these environmental improvements will continue as the IRIS programme is delivered to the remainder of the island."
Related Internet Links
The BBC is not responsible for the content of external sites.