Life sentence for arson murderer on Isle of Man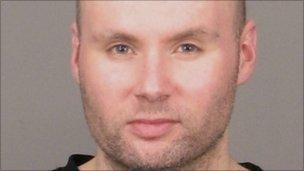 A man found guilty of murder and arson on the Isle of Man has been given a life sentence at Douglas Court House.
Simon Leece started a fire at Demesne Road in Douglas last march, killing 61-year-old builder Terrence Losh.
Deemster Birkett said it was a "horrifying case" and ordered Leece, 35, to serve a minimum of 21 years.
He was also sentenced to 12 years for arson with intent to endanger life and eight years for arson being reckless as to whether life was endangered.
These sentences will run concurrently to the life sentence.
Ch Insp Kevin Wilson, who headed the investigation, said: "There is a degree of satisfaction in knowing that the island is now safe from him.
"But nothing in today's sentencing can bring back Terry Losh to his family and that's an ordeal they'll maintain for the rest of their lives.
"These were terrible crimes. An innocent man lost his life when he was at his most vulnerable in the middle of the night and a lot of other people had a terrifying experience and the toll could have been much higher."
The court heard how Leece, from Fairfield Terrace, Douglas, had shown no remorse for his crimes and denied all of the offences.
It was also revealed that he had been on a fire safety course as an employee at a nursing home and had knowledge of how to start a fire.
There was no evidence of any psychiatric illness or disorder.
Mark Benson QC for the prosecuting told the court that Leece's actions had been premeditated and showed intent.
He told the court that items for starting fires were found in Leece's possession, he had bought thinners two weeks before the fires and knew that the properties were occupied.
"It's a matter of chance that this is a murder and not a multiple murder."
"He knew that the occupants of the properties would be asleep and vulnerable, many more could have perished.
"There is no apparent reason for his behaviour. He was indiscriminate in his choice of victims and there is concern that this lack of explanation (for his actions) means he could pose a greater danger to the public."
In his defence, Anthony Berry QC said Leece had no previous convictions and was described by friends and work colleagues as "pleasant" and "sweet".
Since the verdict was reached on 19 August, Berry said that Leece has shown signs of hopelessness, dismay and indicated feelings of suicide at times.
Leece remained expressionless in the dock as the sentence was read out.