Isle of Man falls short on UN overseas aid targets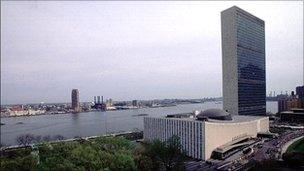 The Isle of Man is likely to miss the 2015 United Nations (UN) deadline for boosting its overseas aid.
Overseas Aid Committee chairman Phil Gawne said the island was committed to donating 0.7% of gross national income.
But speaking after a visit by officials from the United Nations Childrens Fund (Unicef) on Friday, he admitted Tynwald was still some way short.
Last year the committee donated about £2.2m in humanitarian aid, 0.25% of the gross national income.
Unicef representatives, including UK ambassador Martin Bell, visited the island to show the committee how its money was being spent.
Mr Gawne said: "It's fair to say we are still some distance away from the UN target but we are doing considerably better than we were doing, and we are committed to reaching the 0.7% of gross national income target which the UN has set.
"The UN had set a deadline I think of 2015 - we're some distance I think still behind that.
"But we are committed. Tynwald has supported a resolution that we are going to meet that target at some point."
Under UN Millennium Development Goals (MDGs) adopted 10 years ago, the world's richest states agreed to donate 0.7% of gross national income to tackling poverty.
Last month it was revealed that of the G8 countries, the United Kingdom gives the highest level of aid at 0.51% and Italy the lowest at 0.15%.
Related Internet Links
The BBC is not responsible for the content of external sites.