The Isle of Man salutes Sir Norman Wisdom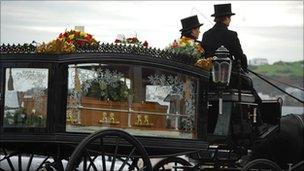 As Sir Norman Wisdom's coffin was carried on a horse-drawn hearse through Douglas, a crowd of mourners let out a cheer.
There was also a final round of applause for the cherished celebrity, who had made his home on the Isle of Man and cemented his place in the hearts of the islanders.
The funeral cortege made its way past the Gaiety Theatre in Douglas where, in 1978 during a season of shows Sir Norman first fell in love with the island - before moving there a few years later.
As one mourner, Harvey Garton, 60, explained, Sir Norman rarely rejected an invitation to appear at a local event.
"He was just so brilliant at turning up for anything that anyone wanted him for.
"I met him at the National Sports Centre once where he was handing out medals to the island's Special Olympians.
"He ran the whole course with the athletes, falling over at regular intervals.
"That man had a heart of gold and there are 80,000 people mourning Sir Norman on the island today."
Sir Norman Wisdom's final journey began in Onchan but the largest crowd had gathered at Douglas promenade waiting to pay their respects.
The four-mile route took Sir Norman's coffin through the centre of the town where police estimate around 3,000 people had turned out.
Norman Corlett, 65, broke down in tears when he described what Sir Norman meant to him.
"That man has been a good ambassador for the Isle of Man, he really has. I met him a couple of times in Peel and he was always willing to stop and talk to anybody. He was a super fellow.
"It's a very sad day for the Isle of Man - and the rest of the world for that matter."
The funeral cortege made its way from Douglas promenade to St George's church containing around 700 people including friends, family and people from the world of show business.
On top of the coffin lay a bouquet and the comic's trademark flat cap.
Among the more well known faces were Scottish singer Moira Anderson, actors Todd Carty, Ricky Tomlinson and former BBC Chairman, Michael Grade.
But it was anything but a showbiz affair as Sir Norman's family had extended the invitation to the whole of the Island.
His son Nicholas insisted that his father would have wanted it that way.
St George's Church was packed with people of all ages and all backgrounds but far from being a sombre affair, the atmosphere was one of celebration.
One group of children raised flags in honour of Sir Norman's life. Many had met him at various charity functions over the years.
They may not have known the comedy and film work which propelled Sir Norman to international fame but they did know him from his many appearances around the island.
It seems Sir Norman's popularity on the island had more to do with his generosity of spirit than his international stardom.
Related Internet Links
The BBC is not responsible for the content of external sites.