Tribute to Isle of Man teenager run over by police car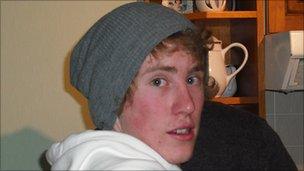 An Isle of Man high school has paid tribute to a former pupil who was run over and killed by a police car in Sheffield.
Jamie Haslett, a Sheffield Hallam University student, was hit by a patrol car on Broad Lane at about 0400 BST on Wednesday.
The 19-year-old was a pupil at St Ninian's High School until 2009.
"To all who knew Jamie, he was a friendly, sociable, well liked and respected young man," the school said.
"As a school prefect, Jamie was an excellent role model to the younger pupils," a school spokesperson said.
He represented the school in every level of sport and had represented the island as part of a football team that competed in California.
He was also a member of Laxey Football Club and Manx Harriers.
Mr Haslett, who was studying sports and business management, was hit by the police car when it was responding to a request by an ambulance crew for help with a separate matter.
The Independent Police Complaints Commission (IPCC) is keen to speak to anyone who may have witnessed the incident.
Related Internet Links
The BBC is not responsible for the content of external sites.