Manx cats 'missed' by collision laws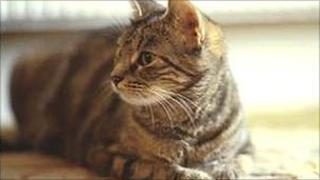 Cats could be given more help in the wake of collisions with cars under attempts by one MHK to change the law.
Under current laws any driver who hits animals such as dogs and horses must report the collision to police - but cats are not covered.
But next week South Douglas MHK David Cretney will ask the House of Keys to amend the Road Traffic Act 1985 to include the popular pets.
The move has been welcomed by animal welfare groups on the island.
Sue Critchley, of the Mann Cat Sanctuary, said a new law might make careless motorists think twice.
'I'd better stop'
"I saw a cat run over recently and the driver only had to take his foot off the accelerator and he didn't... so I think there are people who would always do that," she said.
"I'm sure it would maybe stop a few people when they strike a cat, that they say, 'Well, it's now against the law so I'd better stop'."
Mr Cretney's attempt is featured in the order paper for the House of Keys sitting on 2 November.
It reads: "That leave be given to introduce a Bill to amend the Road Traffic Act 1985 to vary the definition of "animal" in section 20 (5) to include a cat."