First Isle of Man college students graduate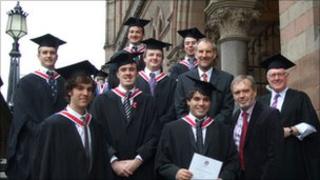 Seven students have become the first computer science degree graduates at the Isle of Man College.
The group collected their degree certificates from the University of Chester this month after completing a three-year course.
Some of the graduates now intend to pursue careers in web development, communications and computing.
Senior lecturer Dave Badrick said: "This is the first time the course has been completed wholly on the island."
The Isle of Man College recently achieved the status of Associate College of the University of Chester.