Caution urged on Isle of Man roads after snowfall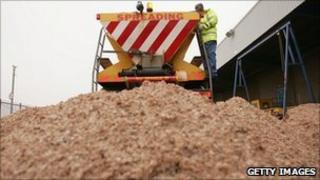 Motorists on the Isle of Man were advised to stick to main roads after overnight sleet and snowfall.
Department of Infrastructure teams began gritting roads around the island at about 0100 GMT.
A number of roads, including the Mountain Road, were closed in the morning, said the emergency services control room (ESJCR).
It warned there was still ice on many roads and urged motorists to drive to the conditions.
The Mountain Road, which was closed because of poor weather conditions, re-opened at about 1400 GMT, a spokesperson said.
Other roads temporarily closed included parts of Old Church Road, Stoney Road in Douglas and Mines Road in Foxdale.
Some buses around the island were also cancelled and passengers were advised to check with operators.
The department has five bulk gritters for deployment and a further 10 vehicles which can accommodate snow ploughs if the weather deteriorates further.