Isle of Man to host British-Irish Council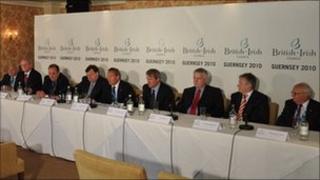 The Isle of Man is to host the 15th summit of the British-Irish Council next month.
The council was set up as part of the Good Friday agreement, to promote positive links between members.
It includes the governments of the UK, the Irish Republic, Northern Ireland, Scotland, Wales, Isle of Man, Jersey and Guernsey.
The meeting, which will focus on the economy and digital inclusion, will be held in Douglas on 13 December.
The island previously hosted the council in 2005. The last meeting was in June in Guernsey.
Manx chief minister Tony Brown said: "The British-Irish Council (BIC) has always been a valuable forum for the Isle of Man, allowing us to take our place amongst the governments of the British islands and discuss matters of mutual interest at the highest level.
"As a full and active member of the council, the Isle of Man is looking forward to welcoming and hosting Ministers and officials from across the UK, Ireland and the crown dependencies.
"The BIC summits provide an opportunity to strengthen relationships with our closest neighbours and to share ideas on a number of issues, including ways to address our fiscal challenges and encourage a more sustainable future for people across our islands."