Students 'to get more funding' than in UK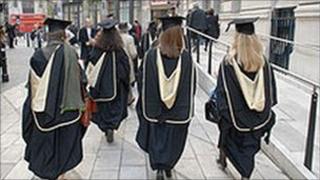 Students from the Isle Man who choose to continue into higher education will receive more funding than their UK counterparts, the government has said.
The Department for Education is drawing up new funding regulations after the UK government said it planned to charge up to three times the current fees.
Minister for Education Eddie Teare said he planned to keep maintenance awards at their current levels.
However, the requirements for the awards would be more stringent.
Distance learning
The department wants to increase the minimum academic standard for qualifying for degree funding from two Ds to two Cs or equivalent.
But it also wants to increase support for part-time and distance learning students.
Changes to funding have already been introduced for the current academic year.
Postgraduate students will pay £1,000 a year, as will undergraduates for the fourth and subsequent years of their studies.
Mr Teare said: "We regard continued investment in the education of our young people as being of vital importance to the future of the island.
"However, it will be a challenge to support the current level of students if fees rise dramatically and funding reduces. We will have to react to the new scenario as it unfolds."