Isle of Man smoking ban 'cuts heart attacks'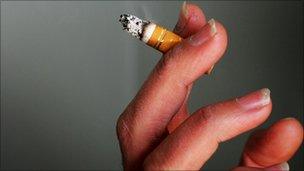 A ban on smoking in public places has reduced heart attack admissions, according to research commissioned by the Isle of Man's Department of Health.
The department has compared admissions in the two years prior to introduction of the ban on 30 March 2008 and the two years since.
It discovered that the number of men over 55 admitted for heart attacks had dropped since the ban.
Minister of Health David Anderson MHK said the evidence was encouraging.
The research by Howda Jwad, a mathematics student at the University of Northumbria, studied admissions to Noble's Hospital in Braddan from 2006 to 2010.
It found that prior to the smoking ban admissions by men aged 55 and over had been rising by 0.14% a month but after the ban it has fallen by 0.17% a month.
"It is encouraging to see positive benefits arising out of the island's anti-tobacco legislation and this finding supports the government in its drive to prevent conditions that negatively impact on health from arising rather than just treating the disease effects of some of our lifestyle habits," said Mr Anderson.
Dr Paul Emerson, consultant in public health medicine, added: "We are pleased to be able to demonstrate a local positive health effect resulting from the tobacco legislation."
Related Internet Links
The BBC is not responsible for the content of external sites.