Isle of Man Police issue snow travel warning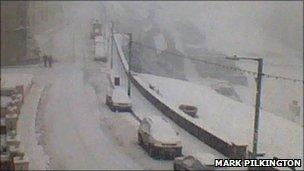 Motorists on the Isle of Man are being urged not to travel unless necessary because of snow and ice.
Heavy snow overnight led to slippery conditions on island roads, with several having to be closed. All buses are also cancelled.
Police said vehicles were struggling in the Baldrine and Bray Hill areas, blocking roads.
The Department of Infrastructure said nine gritting vehicles out overnight would continue throughout Saturday.
Several centimetres of snow fell overnight, particularly on higher ground.
The Mountain Road and streets in Douglas including Christian Road, Mona Street, Barrack Street and Crellins Hill are all closed.
Manx Police said all other roads were "passable with care", particularly for those with 4x4 vehicles.
Gritters and snow ploughs were working on the Coast Road in the Baldrine area in an attempt to try and reopen the road.
However, a number of vehicles were abandoned and motorists were being urged to return and try to move them.
Geoff Walmsley, from the Department of Infrastructure, said the worst-affected parts of the island were in the east and south.
He said their prime objective was to get "all arterial routes passable into towns".
Anyone who does find themselves stranded by the conditions can call 01624 619425 for help from the Island's Civil Defence volunteers.
Spokesman Martin Blackburn said a number of people had rallied around to look after their neighbours.
Ronaldsway Airport was closed for much of the morning but reopened at 1430 GMT. However, there has been severe disruption to flights.
The Santa Trains at Groudle have also been cancelled because of the adverse weather conditions.
"Santa passes on his apologies," said a spokesperson.
Related Internet Links
The BBC is not responsible for the content of external sites.