Abuse at Manx gritters over icy roads 'uncalled for'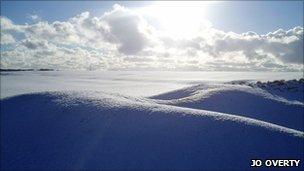 Abusive calls about icy roads were "uncalled for" a Manx politician has said.
Staff in the Department of Infrastructure have been inundated with calls from angry residents who want their roads gritted.
A number of roads across the island have been closed due to the continued ice and snow.
Graham Cregeen MHK said: "Our guys are working hard - we have all our resources out there."
Sub-zero temperatures, snow and ice are causing havoc across the UK with airports being forced to close, train services disrupted, treacherous driving conditions and record levels of emergency call-outs.
Mr Cregeen added: "I think a lot of appreciation needs to go to the guys out there doing this work.
"They have been working round the clock, some of the staff are elderly, unfortunately some of the abusive phone calls they took the other day were not called for.
"A lot of calls are coming in and they can only deal with the priorities, we have all the resources out there."
Related Internet Links
The BBC is not responsible for the content of external sites.