Isle of Man Ferry investigation orders safety review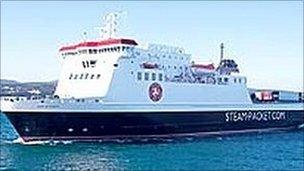 An investigation into the collapse of a gangway as passengers boarded an Isle of Man ferry has highlighted several problems which caused the accident.
Eight people were trapped in a dockside gangway compartment in the incident at Heysham, Lancashire, in March.
This includes running the ship's main engines during boarding.
The collapse of the gangway was caused by the boat's sudden movement forward after engines were started, said the report.
This levered the gangway compartment off its supports and away from the walkway.
The report criticised the port of Heysham stating: "It is unfortunate that little or no effort was made to look after the access structure and the surrounding area.
"It is vital that harbour authorities examine their facilities regularly, especially those in use by the general public, to ensure that they are safe.
"The design of the passenger access structure in Heysham did not accommodate the potential for vessel movement while connected, and it was not resilient to damage caused by vessel movement."
And it also pointed out to the Isle of Man Steam Packet Company: "Ben-My-Chree's senior officers, the vessel's technical managers and Heysham Port management did not fully appreciate the risks of the vessel running the engine while moored alongside and embarking passengers."
It added: "The absence of effective communication between individual crew members, and between the deck and engine departments, immediately before the accident allowed the running of the engine to become an unsafe condition that enabled the accident to occur."
The UK Major Ports Group (UKMPG) and the British Ports Association (BPA) have been told to review the risks of running the engines during embarking and disembarking and inspect passenger access facilities in ports.
The report noted a number of actions taken by the Steam Packet Company since the incident.
Robert Quayle, Steam Packet Company chairman said: "The company is committed to constant review of its management of these risks and, when accidents do happen, lessons are learnt and steps taken to ensure that the chances of those situations arising again are eliminated."
He added that it had cooperated fully with the MAIB.
Related Internet Links
The BBC is not responsible for the content of external sites.