New MRSA strain found in Isle of Man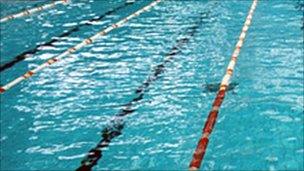 A new strain of the superbug MRSA has been found in the Isle of Man, the Department of Health (DoH) has confirmed.
The DoH said it had recently detected a small number of cases of a bacterium called MRSA USA 300.
The strain mostly affects young, fit and healthy people, is transmitted in sports centres, gyms, and pools and can cause serious infection, the DoH said.
Like all strains, it is resistant to many antibiotics, it added.
Dr Katie Laird, senior lecturer in pharmaceutical microbiology at De Montfort University, said: "Bacteria are particularly good at adapting to their environment and through mutations in their DNA, which they are able to share with other bacteria, they can become resistant to antibiotics that are being utilised in healthcare environments."
The DoH has produced posters, booklets and leaflets about the new strain, to try to prevent it spreading further.
There will also be a presentation at Keyll Darree Education and Training Centre in Strang, Douglas, on 17 January.
Related Internet Links
The BBC is not responsible for the content of external sites.