Manx coastguard and politician Alex Downie made an OBE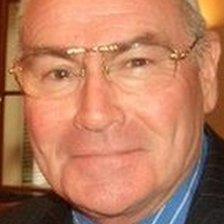 A Manx politician, who has also been a coastguard for 40 years, has been appointed OBE for his public services.
Alex Downie, who has been involved in politics for 25 years, said he had played an integral part in the island's flourishing space sector and growing gaming industry.
The 65-year-old said: "My success is down to being surrounded by an excellent team of people."
He is one of four islanders to be named in the New Year Honours list.
Dr John Taylor has been appointed OBE for services to business and horology and Jean Buck has been made an MBE for her work with wildlife and conservation.
Mr Downie had to retire from being a coastguard in September when he turned 65.
However, he said he had no thoughts of leaving the world of politics.
"We have managed to make the Isle of Man a much more diverse place, there are more opportunities for young people, health and education services have improved and we are still able to give our students grants for university.
"The way we work as a team has really moved the island forward in the past 10 to 15 years.
"We punch above our weight on a global stage, but we should get more recognition from the UK; a lot of businesses that start in the Isle of Man end up in London."
During his career he has been minister for trade and industry, minister for agriculture, fisheries and forestry and is currently working in economic development.
Mr Downie added: "My wife has said she won't believe I've become OBE until she's seen it in the press.
"It's also down to my team and peers, we have all worked very hard."