Old swine flu vaccine stocks may be used in Isle of Man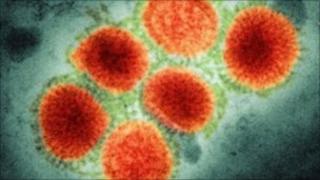 The Isle of Man may turn to its stocks of swine flu vaccine if supplies for the seasonal virus run out, the director of public health has said.
Health officials have admitted batches of the current vaccine are "scarce" but denied there was an island shortage.
Dr Parameswaran Kishore said pharmacies and GPs would be contacted about current stocks.
In the UK, GPs have been told to use left over vaccines from the swine flu pandemic to plug the shortfall.
The government made the announcement amid reports that GPs in some parts of the country were running out of jabs.
Dr Kishore said the Isle of Man could follow the same route should its own stocks of the seasonal flu vaccine run low.
"We still have a stockpile, so that is always a possibility that we can use that," he said.
"The announcement was made only yesterday evening so we would need to go and check our stocks to make sure it's within the expiry date and that it's alright to use it."
The Department of Health is currently in the process of getting further stocks delivered to the island.