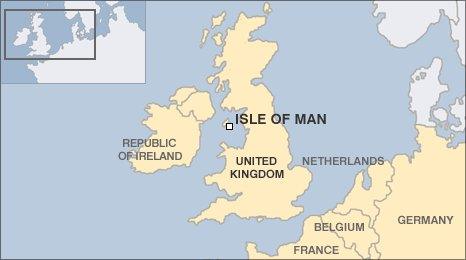 The independent nation of the Isle of Man is located in the Irish Sea between Scotland, England, Ireland and Wales at the heart of the British Isles.
It has a land area of 221 square miles, is 33 miles long and 13 miles wide with a population of around 80,000.
Manx Gaelic is the native language of the Isle of Man and, having come close to extinction, is currently enjoying a revival.
Although the island is a British Crown dependency it does not fall within the jurisdiction of, nor does it form part of, the United Kingdom.
The Isle of Man was permanently settled by Celts and fell under Viking control in 1079. The Viking legacy is seen in many place names and the title of the Tynwald parliament, although the Celtic Manx language predominated until the 19th century.
The Isle of Man passed to the Scottish crown in 1266, and then to the feudal lordship of the Stanley family under the English crown. The British crown acquired the lordship in 1764, but never incorporated the island into the United Kingdom.
Tynwald was granted autonomy in 1866, and steadily advanced to democracy in step with the United Kingdom. Established no later than 979, Tynwald claims to be the oldest parliament in the world.
Every year on the 5 July St John's, a small village in the west of the island, hosts Tynwald Day.
This is the National Day of the Isle of Man when a host of events follow the formal proceedings of the Tynwald ceremony, which includes the only open air sitting of a parliament in the world.
The ceremony which takes place on Tynwald Day dates back to the time of the Vikings when elders and leaders would congregate to settle disputes.
The island's political life
Tynwald elects the Council of Ministers, presided over since 1986 by a chief minister. Most members of Tynwald are independents although there are members of Tynwald who are also members of the Labour party, the Liberal Vannin party and Mec Vannin, the Manx Nationalist party.
Tynwald passes its own legislation with the assent of the Crown granted in the Privy Council. The Crown is responsible for defence and diplomatic representation, and acts on the advice of the UK Ministry of Justice.
The Isle of Man has relatively low taxes and this has encouraged a major offshore financial sector that accounts for most of GDP. Over recent years the Manx government has made a concerted effort to cast off the island's reputation as a tax haven, signing tax information exchange deals with over a dozen countries.
Its strategy was rewarded in April 2009 when it was included in an OECD "white list" of jurisdictions meeting international standards on taxation.
Light industry and tourism also play a significant role in the economy, while agriculture and fisheries are steadily losing their significance.
Related Internet Links
The BBC is not responsible for the content of external sites.