Island medics prioritise private patients claims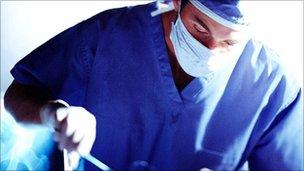 Claims that some medics at Nobles hospital are abusing their contracts by prioritising private work over NHS patients will be investigated.
In the House of Keys on 8 February , MHK Bill Henderson stated two consultants "are cancelling NHS patients in favour of private work".
Island consultants can take on private work to supplement their NHS salary as long as it doesn't impact on NHS time.
Health Minister David Anderson said he would look into the issue further.
He added: "If we didn't give consultants the opportunity to do private work we wouldn't have them here on the island but no consultant has the right to cancel an NHS booked appointment in favour of private work."
Mr Anderson has asked that Mr Henderson provide him with the details of the consultants involved.
Bill Henderson said: "Overall the work of consultants at Nobles Hospital is beyond reproach but some instances are letting the service down. I will be requesting a meeting with the chief executive of the health service along with the health minster to put forward the evidence I have been given"
Related Internet Links
The BBC is not responsible for the content of external sites.