Roads 'disintegrating' on island after winter damage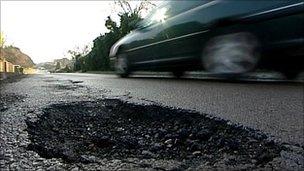 Some island roads are disintegrating due to a lack of repair after the damaging freezing weather, according to an island politician.
In February's House of Keys David Cannan asked when the Department of Infrastructure planned to fix the "extensive" pot hole damage.
Graham Cregeen said the department has nine road repair teams working overtime to address the problem.
He added: "We have also brought in machinery to speed up the process."
Mr Cregeen confirmed that most roads would be fixed within the next two months and that priorities are set by officers who check the roads daily.
Members of the public are still being encouraged to contact the Highways Division to report pot hole damage.
Related Internet Links
The BBC is not responsible for the content of external sites.