Isle of Man breastfeeding bill put on hold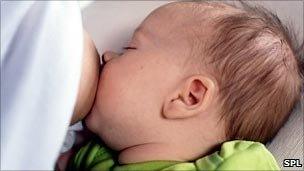 A bid to make breastfeeding in public a legal right in the Isle of Man has been put on hold.
Member of the House of Keys (MHK) Juan Watterson put forward proposals which would have made it illegal to stop a mother breastfeeding in a public place.
The issue has now been referred to a select committee by East Douglas MHK Chris Robertshaw.
He said the bill as it was proposed could have led to innocent people being criminalised.
"I think the whole house was quite unanimous in its support for the need to support breastfeeding in these situations, but the point I was putting forward is we should not be using criminal law in this case.
"We shouldn't be using a sledgehammer to crack a nut and there are significant flaws in this bill.
"You would have a position where a criminal law was applicable in one premises and not the one next door... and that really isn't acceptable."
Rushen MHK Mr Watterson said: "I feel I have let those people down who have been kicked out of places for breastfeeding their children.
"I think referring this bill to a committee sends out all the wrong signals.
"This is a real killer blow for this bill and I doubt it will be back this side of the election."
The members of the select committee are Mr Robertshaw, his East Douglas colleague Brenda Cannell and Rushen MHK Quintin Gill.
Related Internet Links
The BBC is not responsible for the content of external sites.