Campaign group renewable call as energy prices rise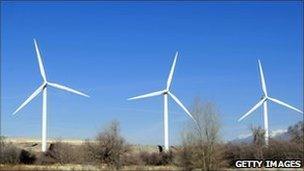 An Isle of Man environmental group has stepped up its campaign for renewable energy development in the wake of rising energy prices.
Friends of the Earth (FoE) say fuel poverty could be eradicated if the Isle of Man was producing its own energy.
Energy company Manx Gas blames increasing global prices for forcing up the prices in the Isle of Man.
A spokesman from FoE said: "There are sound economic and environmental reasons to becoming self-reliant."
He added: "Unless we become less dependent on imported energy the fuel poor will be much more vulnerable to substantial price inflation in the future."
Manx Gas says the average domestic natural gas central heating customer on the island will pay an additional £53.00 per year while the average liquid petroleum gas (LPG) customer will pay an extra £115 per year.
The price increases will take effect from 17 February 2011.
The Isle of Man government has committed itself to a target of 15% of the island's electricity coming from renewable sources by 2015.
Related Internet Links
The BBC is not responsible for the content of external sites.