BBC Introducing: A-mack the Island rapper with soul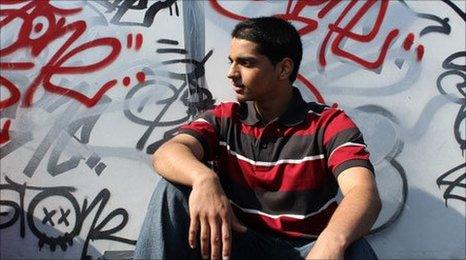 A-mack went to school at St. Ninian's High School after his parents emigrated to the Isle of Man from India.
Since then he has taught himself to write poetry, create music and produce music in a self-made studio.
It is with this steely determination that A-mack is embarking on a career to bring his music to the world.
The constant questioning about what is going on in the world around him is the thing which, he says, keeps the creative process alive.
"I'm not one of those conventional rappers who talk about the same thing all the time.
"I talk about the war in the Middle East, I talk about world poverty and I talk about how we can make the most of our countries' resources - I have so many questions and use my music to put them in the public domain.
"Some people who listen to my music say I'm a political activist. I want to be a revolutionary artist."
You only have to spend a few minutes with A-mack to feel his drive and ambition. Since arriving in the Isle of Man he has made the most of every opportunity given to him.
"I get up early, work hard all day and go to bed late seven days a week. I never stop."
"The Isle of Man opened up a lot of doors for me. In India I didn't have many contacts, but here I started meeting people who were into the same stuff as me.
"I didn't have those sorts of opportunities in India and I thought to myself now I have the chance, I am going to make the most of it".
I thought to myself now I have the chance, I am going to make the most of it
A-mack started writing his own music and practised until he was able to do the whole process himself.
"I had so much music in me but I had no way to record anything. So I bought a keyboard and a microphone and started learning how to mix and record.
"Now I am at University studying sound engineering and production!
"Producing my own music and being completely independent is a great feeling".
So how would A-mack describe the sound he has strived so hard to create?
"I like to deliver a real mixture of sounds in my music. I incorporate a bit of jazz, a bit of soul and some R&B. It's mainly raw hip-hop but my aim is to send out a message through every song".
Related Internet Links
The BBC is not responsible for the content of external sites.