QEII students embark on a 'once in a lifetime trip'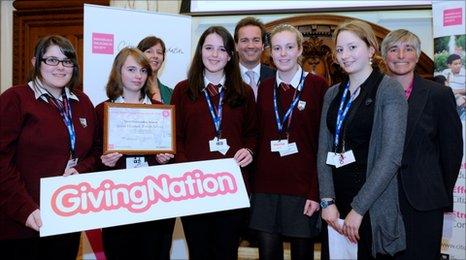 Six students from Queen Elizabeth II High School are embarking on a 'once in a lifetime trip' to the Gambia.
The trip is a prize for winning the Most Outstanding School at the Giving Nation Social Action Awards in October.
The students will be working with a charity called Concern Universal (CU) to investigate a range of issues.
Head Girl, Kaya Teare said: "This will be a life-changing trip and I'm sure we will all learn much from the experience."
Giving Nation promotes and encourages thousands of secondary school students across the UK to get involved in charity work, including campaigning, social enterprise, volunteering and community activities.
QEII raised an astonishing £27,000 for many charities and good causes during the last school year.
Year 11 student, Moira Pain said: "We feel so proud and so privileged to have won such a nationally acclaimed award.
"It's great to gain recognition for all our work. It was only through keeping a diary that we could appreciate how much effort teams and individuals put into helping the community.
"I think we surprised ourselves on how much we actually do!"
The team will join the charity Concern Universal to work in partnership with local communities.
They will spend a week as investigative journalists reporting on how global changes are affecting people at a grass root level in the Gambia.
The key themes will be climate change and tourism.
The students' reports are to be uploaded on Facebook and Twitter during the trip.
Teacher, Lesley Slight says this is a unique opportunity for a group of young people to understand why their own actions have a positive or negative effect on people living in poverty.
The young representatives will begin their adventure in Banjul, the capital of the continent's smallest country, the Gambia.
Related Internet Links
The BBC is not responsible for the content of external sites.