Isle of Man motorcyclists warned over track use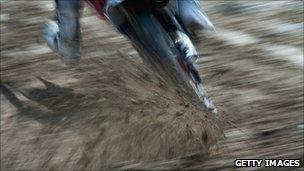 Motorcyclists who damage areas of the Manx countryside have been given an ultimatum in Tynwald.
Infrastructure minister Phil Gawne has warned that unless motorcyclists start acting responsibly, their right to use rural tracks may be withdrawn.
Currently the government has no plans to close tracks to motorcycles, despite public complaints.
However, Phil Gawne said: "Very rarely will motorcyclists admit they cause any damage in the first instance."
He added: "They also seem to be unwilling to take any steps to limit the damage, such as taking the simple step of changing the tyres from enduro style tyres to trials tyres, which would go a long way to decreasing the amount of damage."
The Isle of Man government has spent about £200,000 over the past four years repairing and maintaining countryside tracks.
Areas such as the Maughold mountain track, Sky Hill and the Surby Carnanes track will be marked to show where motorbikes can be ridden.
"There have also been suggestions that we should introduce a permit system, or charge people to use these tracks, and I have asked my officers to investigate these possibilities," Mr Gawne said.
Related Internet Links
The BBC is not responsible for the content of external sites.