Isle of Man hand wash plea at sports centres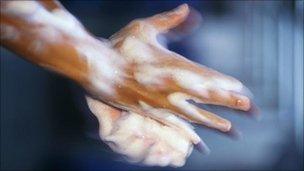 A hand washing campaign is being launched by the Manx Department of Health (DH), after concern about the spread of MRSA in sports facilities.
Through posters and leaflets, the DoH is urging people to wash their hands for 15 to 20 seconds regularly.
Dr Kishore, Director of Public Health said: "We need to go back to basics and use good old soap and water.
"Hand washing doesn't take much time or effort, but it offers great rewards in terms of preventing illness."
Health minister David Anderson MHK, said: "Having clean hands in the hospital is very important, but we live our lives all over the island and it is here in the community where the majority of diseases are spread, such as colds and flu, MRSA, and diarrhoea and vomiting.
"I was shocked when informed that two-thirds of the population do not wash and dry their hands at important times during the day."
Related Internet Links
The BBC is not responsible for the content of external sites.