Rare Chinese vase fetches more than £500,000 at auction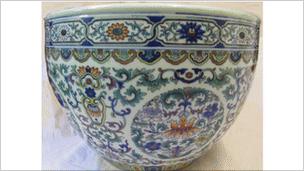 A rare Chinese vase found in the attic of a house in West Baldwin has sold for more than £500,000 at an auction in the Isle of Man.
The Qianlong porcelain planter was bought by a telephone bidder on the line from Hong Kong for £520,000 at Murray's Auctioneers on Friday.
The estimate price of the item was between £40,000 and £60,000.
Three of the largest Chinese art dealers from London flew to the island last week to view the item.
Auctioneer Murray Keefe described the selling price as "staggering".
Related Internet Links
The BBC is not responsible for the content of external sites.