Isle of Man government pushes for traceable fishing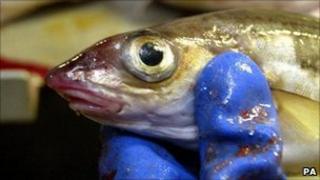 A scheme is being launched to discourage the sale of cheap fish by "hobby fishermen" in the Isle of Man.
The government says the registration of fish buyers and sellers scheme will also help legitimate fishermen to get a good price for their catch.
The same scheme was introduced into the UK in 2005 and is thought to have reduced illegal landings.
Juan Turner, member for fisheries said: "Any restaurants or fishmongers who have concerns should contact DEFA."
He added: "As well as allowing consumers to be confident that seafood they are purchasing is from a legitimate source, the scheme will also provide valuable information to the department, to assist us to see the contribution that local seafood make to the Manx economy."
Island businesses will be contacted by the government to see if they are initially interested in registering for the scheme on a voluntary basis.
Registration is free and will enable each fishmonger or restaurant to demonstrate responsible food sourcing.
Compulsory registration is expected to come in to force later in 2011.