BBC Introducing: Christy Dehaven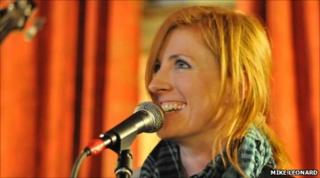 Christy Dehaven is a proud member of a creative and talented pool of local musicians on the Isle of Man.
She sings backing vocals for Truman Falls, Christine Collister and Davy Knowles but is also a well known solo performer in her own right.
Christy plans to complete her album soon and says she hopes it happens in the near future, "preferably before I'm too old to dress myself".
This is the story of the very modest, and very talented Christy Dehaven.
After studying broadcast journalism, Christy started her musical career by promoting other artists on the Isle of Man based radio station, Energy FM.
She presented an Indie rock show, 'The Back Room' and embarked on a series of live sessions and interviews with other musicians.
This experience inspired Christy to start writing her own music and before long she was singing backing vocals for Truman Falls and teaming up with Anna Goldsmith as a member of her band.
More recently she has worked with Christine Collister and another of the Island's most successful musicians, Davy Knowles who started his career with Back Door Slam.
Nowadays Christy can be found performing live in venues around the Isle of Man accompanied by an acoustic or electric guitar, Dave Armstrong on bass and a selection of percussion.
Hers is an eclectic but exciting presence on the Manx music scene but as Christy says herself, "Being inspired equally by Eddie Vedder, Julie London, Jeff Buckley and the writings of madcap British poet John Hegley, it was always going to be a voracious musical appetite that formed my own musical dabblings."