Bringing the flock back to church in the Isle of Man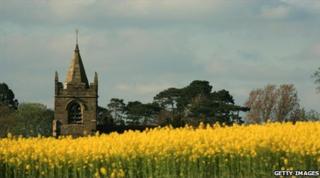 A new initiative, Back to Church Sunday, is aimed at encouraging people to give church another chance.
In the Isle of Man, Bishop Robert Paterson hopes it will mean that people will rediscover Sunday worship.
He says for those people waiting for an opportunity to return to the fold, this could be the perfect time.
He said: "Worship reminds us that there is an ultimate goal in life and it isn't just simply about what you can earn or achieve.
"There is more to life than physical living."
But he said he also understood how some people may have been put off church-going.
He said: "I find myself depressed when I go to church services where there is no sense either of the long-term future of humanity or of being with God, talking to him and letting him speak to us.
"I feel that my generation has let down a lot of young people in Christian terms. We haven't given enough ground to young folk - we've expected them to do the things we did but their world is so different from ours. The world has moved on since I was a kid and my generation has got to recognise that."
With church numbers at an all time low the island's church is now issuing an invitation for people to return without judgement.
"They need to know no one will be pointing a finger and asking where they have been for the past five years, they need to know they will be welcomed back," said Bishop Paterson.
Mission Advisor Gill Poole said taking time to reflect on the bigger picture had never been more important.
She said: "Going to church is about giving yourself the space to reflect and engage with the beyondness of yourself. The spiritual side, the God side.
"It's also about finding association with other people who are sharing that journey. It's about working with other people to take goodness, support and practical help to other people in your community. It's an inward thing, an upward thing and an outward thing."