A group of Bottlenose dolphins become Manx 'residents'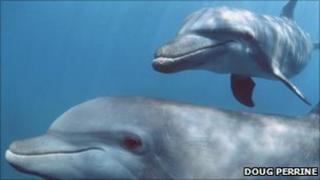 A group of bottlenose dolphins have become resident in Isle of Man waters, according to a marine expert.
Tom Felce, of the Manx Whale and Dolphin Watch, believes a large group of dolphins have almost certainly made Manx waters their home.
Reports of up to 200 dolphins continue to be recorded off Peel, Langness, Port Erin, Laxey and the Calf.
Mr Felce said: "Bottlenose dolphins are a winter speciality, occurring normally between October and March."
"We have had seven sightings of bottlenose dolphins reported to us, or seen by us, since the start of the year and this group is almost certainly resident to the Irish Sea," he said.
The most recent dolphin sighting was near the Calf of Man on Friday 4 March.
Common bottlenose dolphins are widespread, except in polar waters.
They have been known to help one another, with injured dolphins supported at the surface and protected by others within their group.